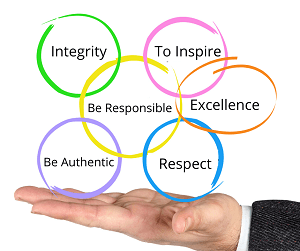 New Values at The Money Edge
Company values are the heartbeat of the business. Like your own heartbeat, you may always not be aware of it, however it is continually beating away in the background, keeping the business alive and functioning. The right values have an impact on team culture, attitudes, moral, standards, principals, and performance. It keeps your business strong and contributes to overall success.  
With each pump, core values resonate in the workplace underpinning our vision and goals. At The Money Edge, we discovered that our values had evolved over time. With vigorous and enthusiastic discussion, the team decided on six values that we believed were the foundation of who we are as an organisation and as a team. With wholehearted agreement, the following values have been adopted.  
Integrity – Do what is right and fair; raw and real; and courageous
Excellence – Demonstrate excellence in everything we do
Respect – Value the Team and the Individual. Embrace diversity and differences
Be Authentic – Be true and honest in our actions, thoughts, and nature
Be Responsible – Accountable, reliable, and committed to all
To Inspire – Maximise potential and ideas through innovation, imagination, and critical thinking 
The Money Edge Values are more than just words, they tell you who we are. Embraced by the team, our values are demonstrated through our actions, thoughts, and relationships. They define our brand as a company you can trust and most importantly, support our vision to enrich and empower our clients, team and community to achieve financial freedom.
When was the last time you looked at your own or company values? Do they still hold true? Do they still resonate with your team? If not, it may be time for you to review your values and find ones that offer a true reflection of your company and team. 
Need help? Contact The Money Edge, we are more than happy to assist you.
The Money Edge | Bundaberg