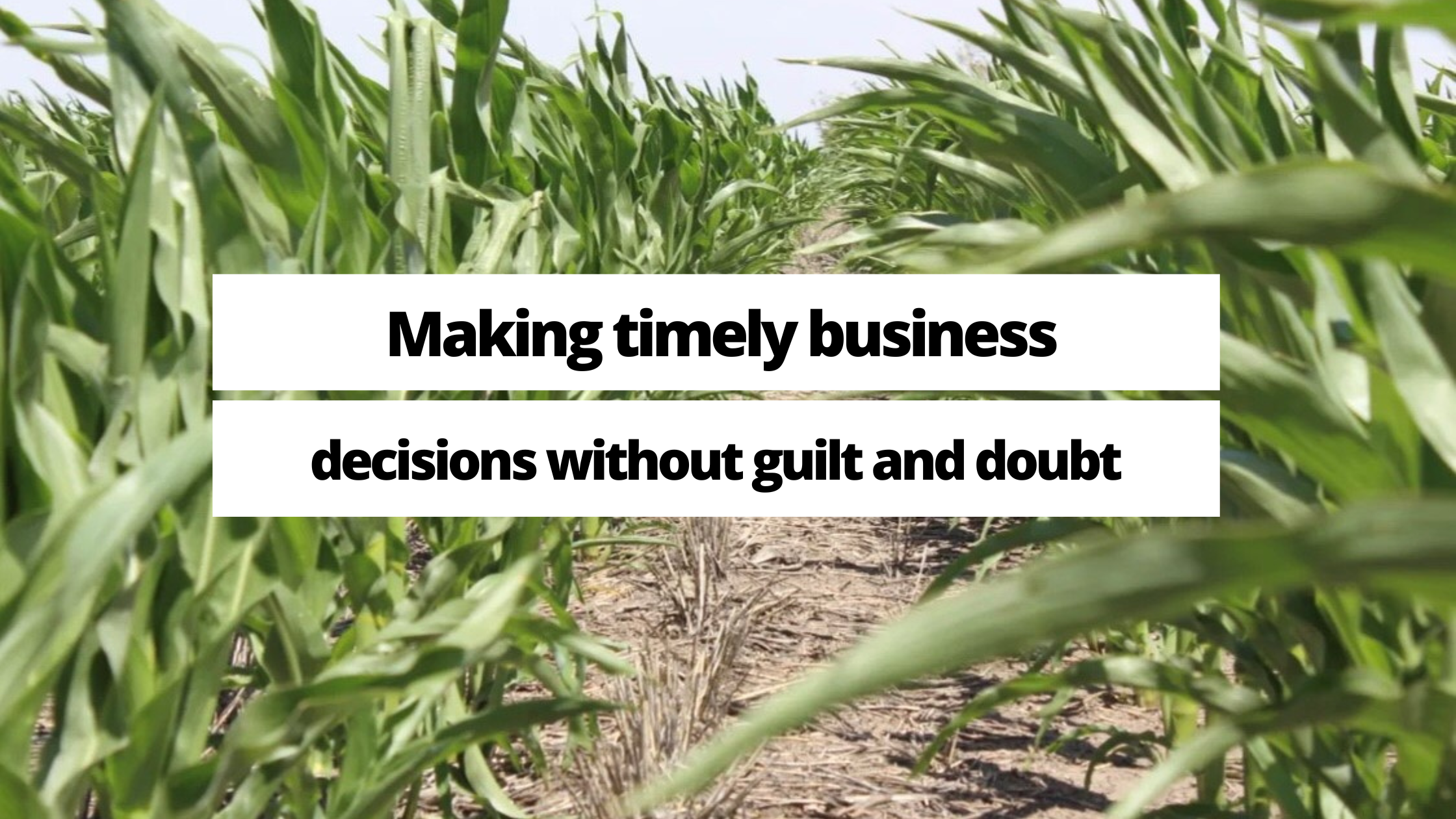 In the realm of Australian primary production and farming, the ability to make swift decisions is a crucial skill. The ever-changing nature of agricultural landscapes demands quick thinking and adaptability. However, the pressure to make timely choices can often be accompanied by feelings of guilt or uncertainty. Here's a closer look at how to make timely decisions in this context while letting go of unnecessary guilt.
1. Stay Informed with Local Insights: Agriculture in Australia is diverse and varies greatly across regions. Keep a pulse on local trends, weather patterns, market demand, and industry regulations. Staying informed about your specific area of operation provides the information necessary for making decisions that suit your unique circumstances.
2. Embrace Sustainable Practices: Sustainability is a cornerstone of modern farming. Decisions that prioritise sustainable practices, such as water conservation, soil health, and responsible chemical usage, align with both environmental and economic goals. When your choices are guided by sustainability, you can make decisions confidently, knowing you're contributing to the long-term health of your land.
3. Utilise Technology and Data: Australia's agricultural sector has embraced technology in remarkable ways. From precision agriculture to data-driven insights, technology can empower you to make informed decisions with precision. Analyzing data related to crop yields, weather forecasts, and market trends enables you to make choices based on concrete information rather than guesswork.
4. Set Clear Production Goals: Establishing clear production goals enables you to measure your decisions against tangible outcomes. Whether it's increasing yield, diversifying crops, or implementing new machinery, having defined objectives provides a framework for decision-making. When your choices align with these goals, any lingering guilt can be eased by the knowledge that you're progressing toward your targets.
5. Leverage Networking and Collaboration: The ag community is known for its strong spirit of collaboration. Engage with local farming networks, agricultural organisations, and industry experts. Sharing experiences and insights can help validate your decisions, as well as provide valuable alternative viewpoints. Collaborative decision-making can help alleviate guilt by spreading the responsibility across a supportive community.
6. Learn from Setbacks and Successes: Farming is inherently unpredictable, with setbacks and successes part of the journey. Rather than dwelling on guilt when faced with challenges, focus on learning from these experiences. Analyze the factors that led to a particular outcome and use this knowledge to fine-tune your decision-making approach for the future.
7. Prioritise Self-Care: The stress of decision-making a decision can be overwhelming. Remember that your mental and emotional well-being are essential. Taking care of yourself allows you to make decisions with a clear mind and reduced emotional burden. Acknowledge that not every decision will yield perfect results, and that's okay—what matters is continuous improvement.
8. Seek Expert Advice When Needed: Don't hesitate to seek advice from your accountant, solicitor, banker, agricultural consultants, agronomists, or local extension services. These experts can provide valuable insights into specific challenges you might be facing. Seeking advice demonstrates a commitment to making the best decisions for your operation and can alleviate any guilt stemming from uncertainty.
In the dynamic landscape of Australian primary production and farming, making timely decisions is both an art and a science. By staying informed, embracing sustainability, leveraging technology, and learning from experiences, you can navigate decision-making with confidence. Remember that the agricultural journey is one of growth and adaptation, and letting go of unnecessary guilt is a step toward fostering a resilient and thriving farming enterprise.

Do you have a decision to make?
If you have any questions please reach out to us on 07 4151 8898 or email at mail@themoneyedge.com.au.
Disclaimer: This content provides general information only, current at the time of production. Any advice in it has been prepared without taking into account your personal circumstances. You should seek professional advice before acting on any material.