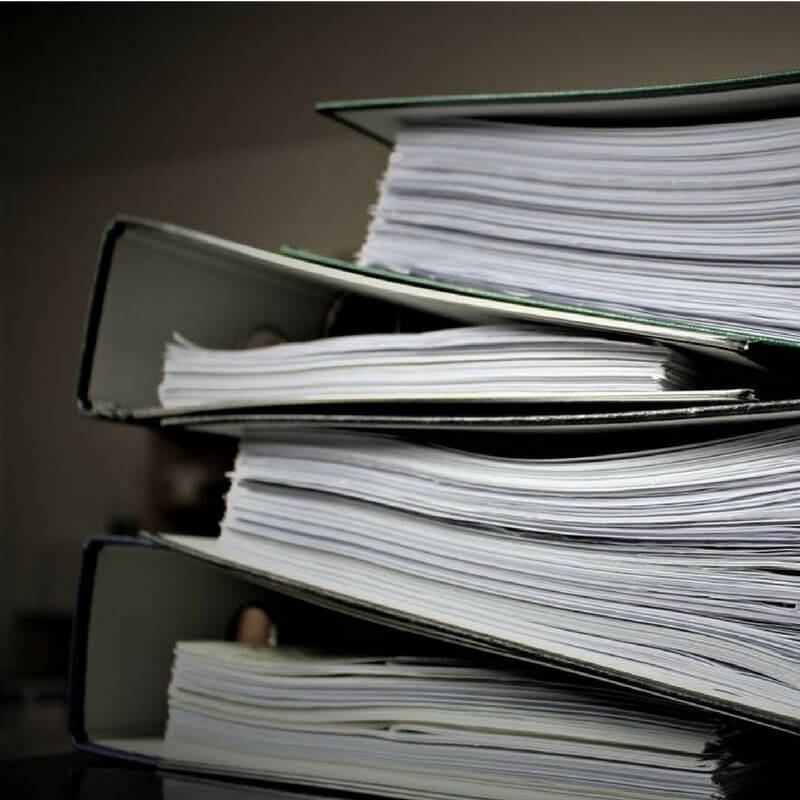 10 Tips for Conquering Paperwork
Feeling overwhelmed? Invoices, statements, receipts, bank statements, credit card statements, warranties, manuals, the list just goes on and on!
Sometimes our lives are so overrun and cluttered by paperwork and we just don't know where to start.
Here are some tips to help you feel uncluttered by the paperwork in both work and home life mocking you from your kitchen bench, car glovebox or wherever else used as a dumping ground for that paperwork you keep saying you'll get around to…
Pick a central spot
Your paperwork needs a home! Just one though — a filing cabinet, folders, a draw. Just your go to spot where you go to find what you need, without walking around all the rooms of your house, down the sides of seats in work vehicles and halfway to China looking for those invoices and statements that your bookkeeper/accountant has been on your back about for over a month.
Do a cull
Be ruthless! With common sense added — for example: No, do not throw away the birth certificates for your whole family or last year's company financials but yes, do turf the user manual and warranty for that rice cooker you bought in 1993 then gave away to Lifeline… After you eliminate some useless bits of paper your pile won't seem so big. Just remember the ATO requests that documents for tax records need to be kept for 5 years — both for personal and businesses. Of course, there are some documents that must be kept indefinitely, and sensitive documents will need to be shredded if disposing of.   (check years needing to keep records)
Go electronic
Yes — I am going to harp on about that cloud that all administration loving folk rave on about. Most banks, will have an option of either a paper statement mailed to you, or an electronic emailed copy — some banks set a sneaky charge for using paper statements. Majority of businesses these days will have the option of emailing you tax invoices and statements.
There are thousands of apps and technologies that can help you out with your mountain of paperwork and send it to float on that magical cloud.
Receipt bank – Send photos and documents to your receipt bank account that fully integrates with your accounting software. The Receipt bank software then extracts all the details from a receipt, invoice, statement and pulls it through to your accounting software. Ta daaa — eliminating data entry, saving admin hours and looking for those receipts that have faded after like two days sitting in your car!
Turbo Scan – A smart phone app that can take any picture of documents and turn it into a scanned PDF. Great for if you are away from your computer/scanner and need to get important or signed documents to someone ASAP. Best of all — its free!
Pick a system that's right for you
Going electronic may not be for you, nor having a big chunky filing cabinet hogging up your office space. There's a whole a list of potential systems that could make your life easier, sometimes it's just a trial and error to see which organising system works best for you.
Don't try to be a perfectionist
What? Don't I mean do? No! Your paperwork does not need to be in alphabetical order, colour coded, or what type font the invoices are in. Don't exhaust yourself and make the organising task harder and more time consuming then it has to be. Be simple! Keep your invoices separated by financial quarters (July – September/ October – December/ January – March/ April -June). Better yet —  file financial supporting documents used to prepare and lodge your BAS by month.
Consistency is key
Being an organised diva won't happen if you do it every 6 months. Be consistent, take the time each month, week or day — whatever it takes to keep on top of it!
Keep business and personal separate
No explanation needed! This will make your life and business life so much easier.
Organise
Separate your documents by different categories, i.e. loan documents stay in one folder and company tax returns in another. Invest in some handy stationary, a tray for unfiled documents, a step file holder for folders you are always filing into, a labeller — I guarantee you will want to label your whole life with one of those bad boys.
Follow up
Are you waiting on an invoice to pay or a receipt for an item you have paid for? Have you requested important documents from your bank and they haven't come through with the goods yet? Follow it up! I have a rule for myself that if it is a task that will take me 5 minutes or less. Do it. Do it the moment you think of it.
Delegate the task to someone else
If you are missing BAS lodgement deadlines, paying late fees for bills, failing to be paid on time by debtors or just feeling defeated and lost in the paper clutter of disorganisation — you need help. Do you need to employ an admin assistant or outsource some or all your bookkeeping tasks? Sometimes yes is the answer.
Remember that business is changing, don't fall behind — does your business need an admin overhaul to eliminate hours spent doing tasks that could be automated? Live with less stress, chaos and restore the peace and freedom! Please speak to The Money Edge team about possible solutions that can help you.
The Money Edge 07 4151 8898.