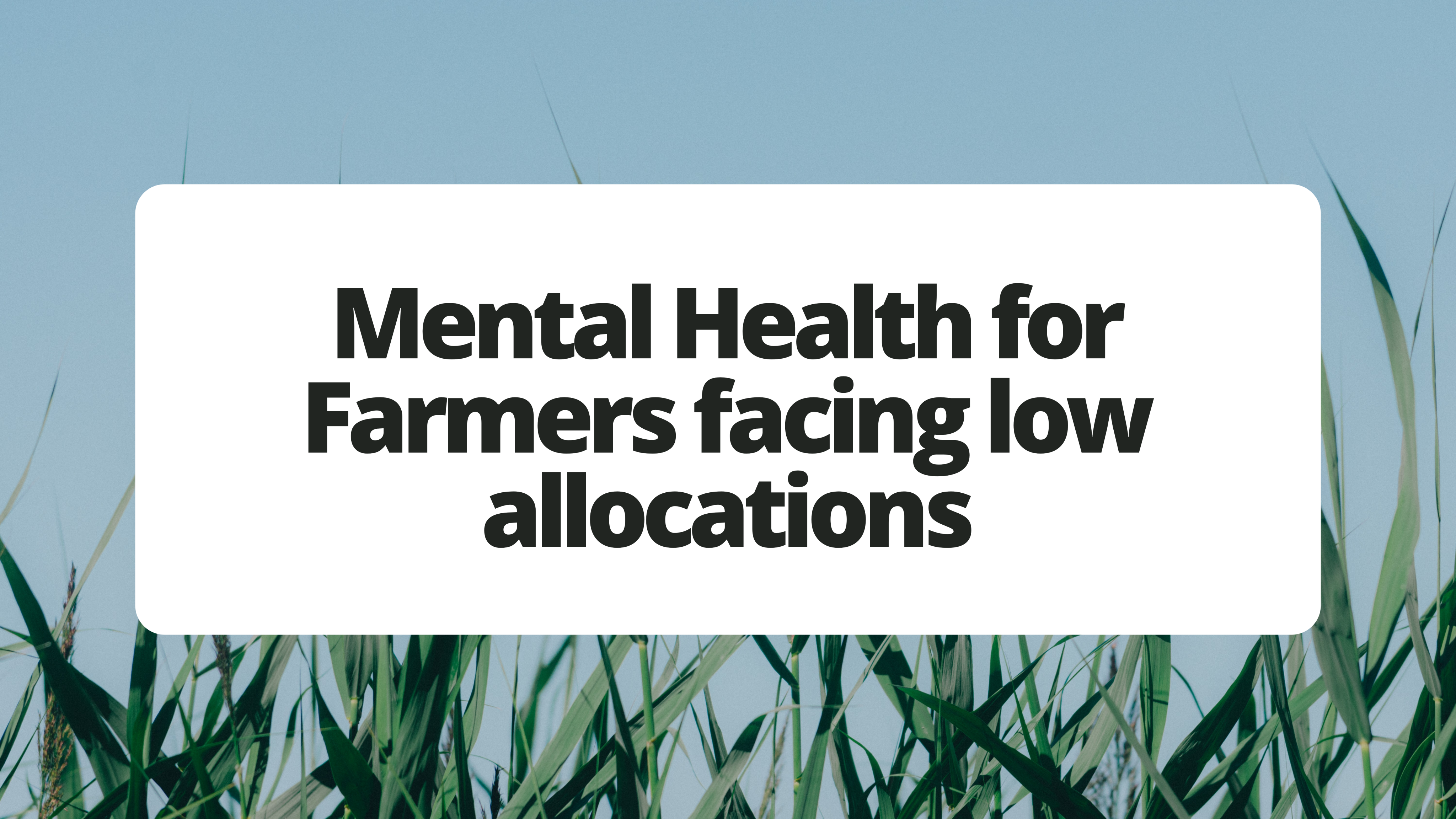 Sunwater has recently released the Bundaberg Water Supply Scheme allocations for the 2021-22 water year. Medium priority allocations for the Burnett sub-scheme (Paradise Dam) are 22 per cent, while medium priority allocations for the Kolan sub-scheme (Fred Haigh Dam) are 98 per cent. High priority allocations for both sub-schemes are 100 per cent.
We understand the significant pressure drought conditions are having. Over the last 24 months the Burnett has seen some of the lowest rainfall on record for the region. Across the catchment, prevailing dry conditions have impacted all Sunwater water storages.
1 in every 5 Australians suffers from mental illness in any given year. Look at the people around you, and think about it – 1 in 5. Additionally, almost half of all Australians have suffered from a mental disorder at some time in their lives. Mental illness is a huge impact on their lives affecting their behaviour, physical health, work, and relationships, as well as the people around them.
Living off the land is very rewarding for many; however, it can also be very challenging. With farmers facing pressures from things like droughts, water allocations, natural disasters and labour shortages, it's no wonder that many are struggling to remain mentally strong and healthy. Unfortunately, suicide rates are much higher than the general population when it comes to males living in rural areas and they are also more likely to suffer from depression.
Illness rates among agricultural workers are not encouraging. In fact, they are 46% higher than the industry averages, with the most common mental illnesses including anxiety and depression.
Identifying the signs can be hard but it is important to know what to look out for, and what to do if someone you know is showing signs of mental health issues.
Changes from someone's 'normal'
Changes in behaviour
Not getting things done
Making more mistakes
Indecisive, more forgetful
Worrying or nervous
Conflict with others
More withdrawn, less involved
Increased drinking/ other substances.
Changes in appearance
Tired, run down, sick more often
Appears either very flat or sad
Slower movement and responses OR agitation, can't stay still
Sudden or dramatic weight loss/ gain
Disheveled appearance
What can be done
Talk to your family or friends and tell them how you feel
Speak to your doctor or a trusted medical professional
Seek information and support online
Allan's Story
Deputy Commissioner of the Mental Health Commission of New South Wales, Allan Sparkes who was raised in rural NSW has faced mental health issues throughout his life. He developed two mental illnesses following his 20-year career as a police officer.
Allan is the only Australian to be awarded Australia's highest civil award – the Cross of Valour and a subsequent Australian Bravery Decoration, the Commendation for Brave Conduct.
"I was very successful with my work and was playing sport at a pretty high level, I had great relationships with friends, my wife and daughter and there really was nothing to complain about."
The pressure of Allan's police work grew and after being involved in several high-pressure situations in close succession he developed Post Traumatic Stress Disorder (PTSD), depression and became suicidal.
"I had a never-ending playing of events in my mind about the things that I had seen and been involved with at work. Whether it was during the daytime or at night, I couldn't close my eyes to go to sleep," he said.
Fortunately, Allan sought professional help and recovered from his illness.
All businesses in Australia, from the big 'corporates', to smaller companies, are facing increased pressure from changing economic conditions, changing government requirements and the effects of such things as globalisation and information technology.
Check on your mates, ask the question – 'Are you okay?'. Don't sit back and wait for the worst to happen.
Resources
Helplines
The Money Edge | Bundaberg