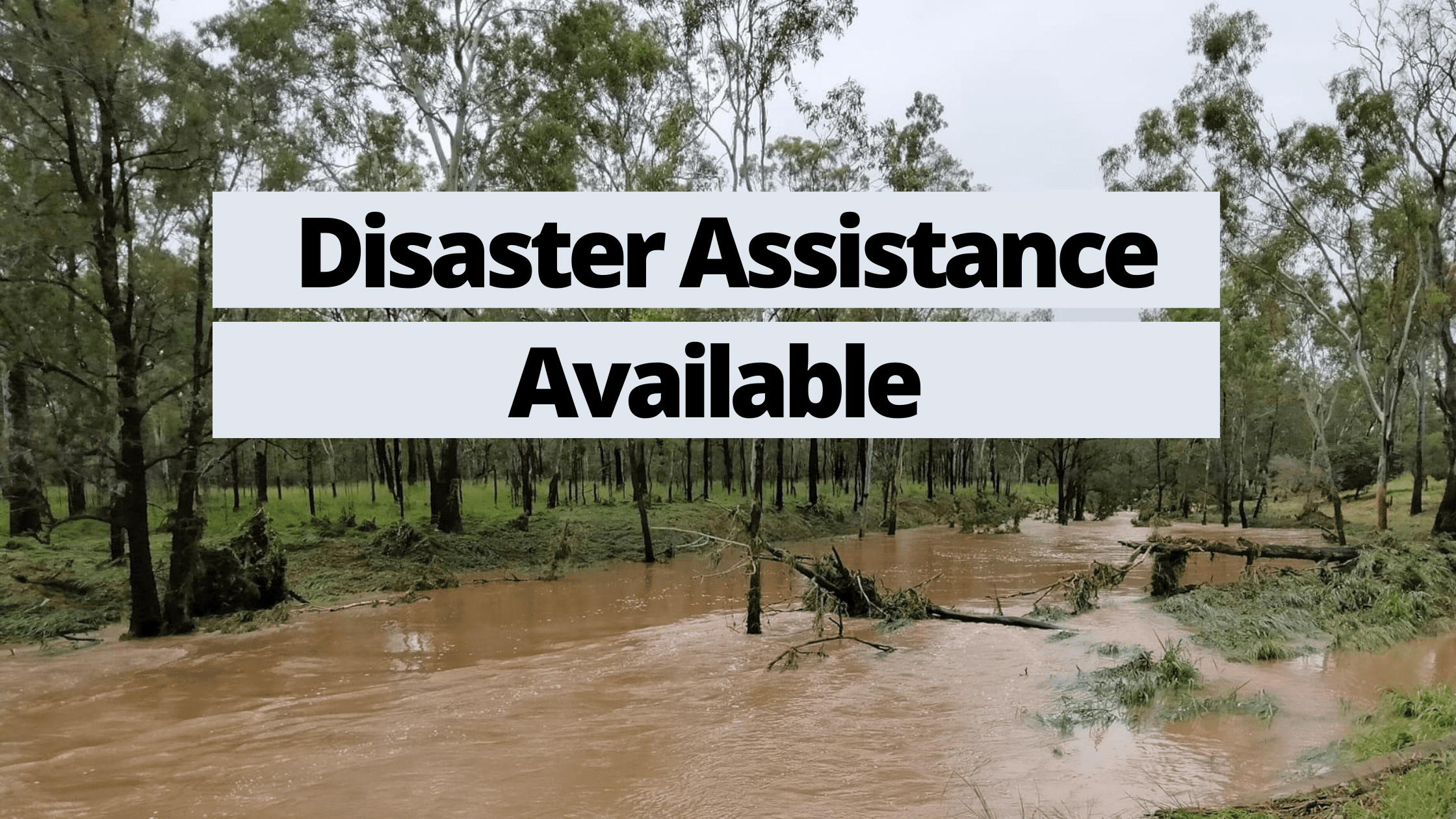 Flood & Disaster Assistance
Update: Eligible Primary Producers in the Bundaberg region can now apply for recovery grants of up to $50,000.
A range of disaster assistance measures are now available in the Queensland local government areas of Bundaberg, Cherbourg, Fraser Coast, Gympie, North Burnett and South Burnett following the devastating heavy rainfall and flooding associated with ex-Tropical Cyclone Seth from 7 – 10 January 2022.
Assistance is being provided through the jointly funded Commonwealth-State Disaster Recovery Funding Arrangements (DRFA).

Assistance is now available to support impacted residents in the hardest hit areas of Tiaro, Bauple, Gundiah and Glenwood in the Fraser Coast and the localities of Goomeri, Kilkivan, Tansey, Miva, Woolooga, Theebine, Gunalda and Booubyjan in the Gympie region.
These are grants of up to $180 per person, to a maximum of $900 for a family of five or more, as well as grants to safely reconnect essential services.
Assistance is also being made available through the DRFA to help the Cherbourg, Fraser Coast and Gympie local councils cover the cost of clean-up efforts and the repair of essential public infrastructure.
In addition, low interest loans of up to $250,000 are available to help flood impacted primary producers and small businesses in Bundaberg, Fraser Coast, Gympie, North Burnett and South Burnett to get back on their feet as soon as possible.


Wide Bay-Burnett

Eligible primary producers impacted by the recent unprecedented rainfall from ex-Tropical Cyclone Seth across the Wide Bay-Burnett region can access Category B assistance.
If your primary production business has suffered impacts, you can report damage to the Department of Agriculture and Fisheries on 13 25 23 or to your local industry group.
AgForce is collecting information from producers using an online map, which provides access to a survey where producers can report the flood extent on their property, animal welfare concerns and damage assessment. These reports will help determine the need for additional assistance to support the recovery needs of the impacted communities.
Individuals who have suffered significant damage from the floods outside of the activated areas are able to apply for an Individual Disaster Stricken Property (IDSP) declaration.
If you engage with farmers in the Wide Bay Region who are hit by drought or floods and find yourself in the role of 'counsellor', you may wish to attend the free, online Accidental Counsellor Foundations workshop hosted by Bundaberg Fruit & Vegetable Growers on 24 February. Register now.

Central, southern and western Queensland

Category D Recovery Grants of up to $50,000 are available for eligible primary producers in activated local governments in Central, southern and western Queensland to help with clean-up and repairs.



WHAT CAN WE DO?
The Money Edge can assist you with your grant applications, provide supporting documents or guide you through the process. Phone the office on 07 4151 8898 if you wish to schedule an appointment or email mail@themoneyedge.com.au
For information on Personal Hardship Assistance, contact the Community Recovery Hotline 1800 173 349 or visit www.qld.gov.au/community/disasters-emergencies.
For more information on loans for primary producers and small businesses phone Queensland Rural and Industry Development Authority visit www.qrida.qld.gov.au.
For information on the freight subsidies visit www.daf.qld.gov.au
Information on disaster assistance can be found on the Queensland Reconstruction Authority's website at www.qra.qld.gov.au.
EMOTIONAL STRESS SUPPORT
Support for non-activated communities
If you are experiencing emotional stress or personal financial hardship due to this event, but your community has not been activated for financial assistance, please contact your local emergency relief provider or counselling service for support.
Rural Financial Counselling Service
Contact the Rural Financial Counselling Service if you need help dealing with financial hardship. They can refer you to relevant professional services such as accountants, agricultural advisers, education or counselling services. This service is for farmers, fishing or forestry businesses. Phone 1800 686 175 or visit
https://recovery.gov.au/programs/national-flood-mitigation-infrastructure-program-2021-22
Lifeline
Contact Lifeline for support if you are experiencing a personal crisis or have suicidal thoughts. You can call them 24 hours a day, 7 days a week from anywhere in Australia. Lifeline 24-hour crisis line 131 114 or visit lifeline.org.au

Disclaimer: This content provides general information only, current at the time of production. Any advice in it has been prepared without taking into account your personal circumstances. You should seek professional advice before acting on any material.