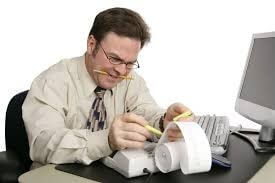 Can your accountant add value to your situation?
While most, if not all businesses engage an Accountant to do their Tax Return, Accountants do much much more than this.  They also add value to your situation during key stages of your businesses lifecycle.
Whether you're considering starting your first business or planning your exit strategy so you can retire in the Bahamas, hiring an Accountant can help to make better financial decisions regarding your unique situation.  As well as preparing the required financial documents, your Accountants can also suggest ways to free up cashflow, save money, reduce tax or raise capital.
While you are probably very capable of running your own financial reports, which has been made significantly easier with software such as Xero, delegating financial reporting requirements to your Accountant will save you significant time and will be explained in a manner that you understand. Engaging an Accountant to perform this task is also a guarantee that they won't miss something important.
Still not convinced your business would benefit from added services from your Accountant? Ask yourself the following questions:
Do you have the time to keep up to date with tax regulations and how they apply to your business and your unique situation?
Do you possess the time, concentration and attention to detail required to prepare detailed financial documents such as tax returns, BAS or Financial Statements?
Some of the key times in the business lifecycle when using the services of a qualified Accountant could be the game changer that adds real value to your business are:
Before starting your business
An Accountant will assist by explaining the benefits and drawbacks of different entity structures and advise you of which is best for your business.  An Accountant can also provide realistic projections and reports, adding credibility to your business plan.
Buying a franchise or existing business are popular routes to becoming your own boss.  It is highly recommended that you always consult an Accountant before buying an existing business.  They will examine the accounts, identify any discrepancies and check for outstanding debts.  They'll also verify whether assets such as vehicles or equipment are fully-owned, leased or part-paid for.
Helping you keep on top of business accounting
If you've lost track of who owes you money and how much, an Accountant can help you get back on track. Using cloud-based accounting software allows you and your Accountant to see your financial situation at a glance in real time.  They may also suggest add-on which may help to manage debt recovery.
Planning for growth
A big client win might mean you need to grow your business quicker than expected.
Your Accountant can help you handle the transition by handling details such as payroll, employee tax management, property tax and utility payments, leaving you to work on the bigger picture. They can also analyse your cashflow, stock management and pricing, providing useful insight into where your business could grow.  This is particularly useful if you're considering introducing a new product, service offering or even considering moving to larger premises.
Complying with statutory paperwork
Dealing with government paperwork can be daunting – your Accountant can help you to:
Complete and file legal and compliance documents
Keep your company up to date with the latest tax laws
Prepare statutory accounts
Keep your company status updated in the government's company register
Maintain records of directors and other administrative personnel
Organise and record share/stock allocation, when the business is formed, when a partner leaves or a new partner joins
Handle your payroll and ensure employee tax codes and payments are recorded correctly.
If you are audited, hire an accountant
Tax Audits are expensive, extremely stressful and time-consuming. An Accountant will help you navigate the process and ensure you don't violate any tax laws.
Getting the best deal when you sell your business
As well as putting your company's financial records in order, your Accountant can produce information and charts to show to prospective buyers.
Your Accountant can also liaise with potential buyers' Accountants during the due diligence process and structure your financial affairs so that you receive the best deal.  The best time to speak to your Accountant is when you first start thinking about selling your business not after you have a signed contract.
Tax Planning
It's pretty safe to say that no one enjoys paying tax.  If you fall into this category, then speaking with your Accountant ahead of tax time, could save in hundreds if not thousands when your tax bill arrives.  It's all about having the right strategies in place for your situation.
As you can see, there are many ways your accountant can add value to your situation. The question you now need to ask yourself is "Am I getting the best value added to my situation?"
If you have any questions, please do not hesitate to contact The Money Edge Team on 07 4151 8898.
Nicole Sabo | Marketing Coordinator | The Money Edge | Bundaberg